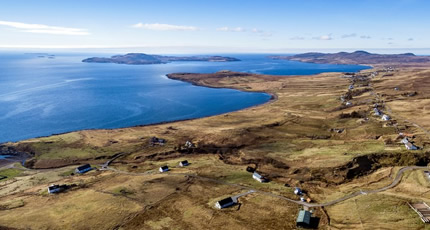 Welcome to Roangorm Holiday House
In 2016 we opened Roangorm holiday house. 2 min walk from Badenscallie beach where you will find lots of rockpools, sandy coves, birdlife flora and fauna. A perfect place to paint a picture too! The surrounding area also offers excellent walking and canoeing. Excellent area for your mountain bikes or gentle cycles.
Roangorm sleeps 6 (+ cot), is spacious, welcoming and warm. A beautiful location offering views and nature on your doorstep, and easy access to the wonderful land, coast and scenery all around.
Badenscallie Highlights
Roangorm

Holiday House

Designed to offer our guests comfortable accommodation in our lovely part of the world. A modern and tastefully furnished property. Oil Heating and wood burner in Roangorm and fitted wardrobes in both rooms. All duvets, pillows and bed linen are included in your rental price. Towels are also included, though you are welcome to bring your own. The linen is of a high standard, as are the towels.

Badenscallie and Achiltibuie

We are within 2 miles of shops, petrol and the award winning Summer Isles Hotel and bar. Guests who prefer a relaxed holiday will discover a unique tranquillity and peace in this rugged paradise. Roangorm Holiday Cottage is situated in the crofting township of Badenscallie. Lambing time is always interesting (April/May). Come later in the year and you can watch the men clipping the sheep in our big shed. Enjoy stunning views from your windows of mountains and sea. Below us are the Summer Isles, including Horse Island and Goat Island. Behind us Beinn Mor Coigach rises to 2,437 ft.

Coigach

Coigach is a wonderful part of the north west Highlands of Scotland. Famed for the unspoilt environment and nature, the Highlands offer visitors a chance to experience nature and the land as it is meant to be. The surrounding crofting community retains a charm that is hard to find elsewhere. The history and culture of the region is ever present, along with an environment that is famous throughout the world. Walk, cycle, climb, explore - we have beaches, coastline, hills and glens all around!
Visitor Comments

Craig Dow,
Brighton
Our first time in this part of the world but we are sure it won't be the last. The Highlands lived up to our hopes and the house at Badenscallie provided us with a great location. We enjoyed the beach and coastal walks on the sunnier days but found the drive along the lonely roads atmospheric and beautiful even when less sunny. Thanks for everything, great place, great host, will return.